Roll over image to zoom in
Description
Explore All Camera Cases Specifically Tailored for:
Keep your Canon EOS RP safe with the MegaGear "Ever Ready" Protective Genuine Leather Camera Half Case with Battery Access . This case is made for photographers who wish to reflect their art through their style.
A union of exquisite leather craftsmanship and soft, padded internal protection the MegaGear Genuine Leather Camera Half Case will be your perfect companion for taking photos on the go, whenever and wherever you are.
Accessibility Matters:
With the MegaGear Genuine Leather Camera Half Case you do not have to remove it to take pictures, mount your camera on a tripod or access the peripheral ports, card slots, buttons, and the battery. Simply pull your camera out and capture the perfect shot!
Product Details:
High Quality Genuine Leather
Soft Internal Protective Fabric
Protects Against Scratches, Damage and Shock
Easy to Clean and Maintain
Ever Ready Design, Tripod Installation and Battery Access in Seconds
Designed for Canon EOS RP
Product Features:
BESPOKE FIT - The MegaGear Premium Genuine Leather Camera Half Case with Battery Access is specifically tailored using high quality leather for the Canon EOS RP models for precision fit and coverage.
FUNCTIONAL ACCESSIBILITY - The "Ever Ready" is designed for efficient photography and accuracy. You can access all peripheral ports, card slots, buttons, and the battery without removing your case, and attach it to a tripod with the case on!
ENHANCED PROTECTION - Due to its rugged construction and tailored fit this case provides protection for your camera body against scratches.
CONVENIENT - Convenience features allow rapid use of your camera when needed. Perfect for functional travel and outdoor use.
STYLISH DESIGN - Whether you are a beginner or a seasoned, professional photographer, you will want these lightweight leather cases with exquisite, ageless leather style at your side.
Part Number: MG1739
Product UPC: 193029001704
Free Worldwide Shipping (Delivery in 2-3 days for most countires)
**All orders will be delivered DDP (Delivered Duty Paid). MegaGear assumes all of the responsibility, risk, and costs associated with transporting goods including VAT, duty and other expenses until the buyer receives the order.
Exceptions:

- Sweeden
- Rusya
- India
- Brazil
- China
- Indonesia
- Colombia

Customer Reviews
Customer Reviews
DV
01/15/2021
Duy-Tan V.

Canada
I recommend this product
Perfectly tailored. Excellent quality.
I finally received my Canon RP today, so I was eager to finally slide it into this case. Happy to report that it's a snug fit. The cutouts do not interfere with any of the openings, the buttons or any functionalities of the camera. Very happy with the purchase. It also comes with a neck strap which I did not expect. This is my first MegaGear product and certainly won't be my last!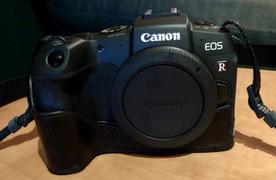 03/26/2021
Anonymous

United Kingdom
I recommend this product
Looks great and improves the grip
Great product. I liked the quality and colour. It fits well, and makes the RP grip a bit chunkier to hold onto.
09/22/2020
Onyeka

United States
I recommend this product
Looks amazing
Looks amazing and fits perfectly!!!
Payment & Security
Your payment information is processed securely. We do not store credit card details nor have access to your credit card information.