Roll over image to zoom in
Description
Explore All Mouse Pads Specifically Tailored for:
Londo Genuine Leather Extended Mousepad
The Londo Mouse pad is designed and crafted with the purpose of producing a product that is not only a result of top quality leather craftsmanship but also a convenient and modern accessory that one can rely on.
The Londo Mouse pad is designed to be a stylish computer accessory without sacrificing convenience and practicality. It features all the useful properties of a modern Mouse pad such as non-slip backing and exceptional tracking efficiency due to its smooth surface
Product Details:
Genuine Leather
Dimensions 74 x 33.5 cm
Smooth Surface
EXQUISITE LEATHER CRAFTSMANSHIP - The Londo Mouse pad is crafted with high quality, genuine cowhide leather attached with fine and durable stitching, giving it a sleek look and a slim body. An exemplary model of artisanal craft combining the pleasant feel and the handsome look of leather without sacrificing versatility and convenience.
SILKY SMOOTH - The Londo Mouse pad provides a silky smooth surface for efficient and uninterrupted use of your mice.
NON-SLIP BACKING - The Londo Mouse pad is reinforced with a non-slip backing keeping it stable. The Londo Mouse pad can also be easily cleaned with a damp cloth.
PRACTICAL - The extended surface measuring 74 x 33.5 cm reduces clutter on your desk surface when used with a desktop computer and prevents limitation of mouse movement.
STYLISH- The Londo Mouse pad is available in two colors, black and brown. Choose the style that best fits your personality.
Free Worldwide Shipping (Delivery in 2-3 days for most countires)
**All orders will be delivered DDP (Delivered Duty Paid). MegaGear assumes all of the responsibility, risk, and costs associated with transporting goods including VAT, duty and other expenses until the buyer receives the order.
Customer Reviews
Customer Reviews
12/03/2020
Anonymous

Canada
I recommend this product
Very satisfied
Good quality and fast shipping. I love how this pad sticks to the desk and doesn't slide around, unlike my old pad. Overtime I noticed small scratches and scuffs, but that is to be expected with genuine leather which also gives the pad more character. Overall, I'm pleased with this product and would definitely recommend it to family and friends.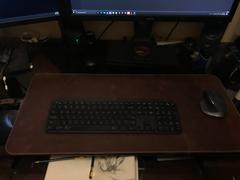 This desk pad is so amazing
This desk pad is so amazing and I'm so pleased I ordered a black one as it looks incredible on the breakfast bar where I normally use it. \nFor once I am not running off of the mouse pad!\nI did have it personalised, but as others have said, it is subtle, but I think a nice touch. \nI would most definitely buy another.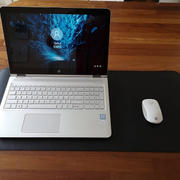 12/29/2020
Anonymous

Australia
Quality Mouse Pad
My husband loves his Christmas present. I hope he will keep his desk tidy with this top grain leather extended mouse pad.
10/31/2020
Kamal P.

United States
EXTREMELY SATISFIED CUSTOMER
I purchased this product as a gift for my Dad and he absolutely loves it. Extremely glad I decided to buy this am just about to purchase one for myself as I'm typing this review!!
09/28/2020
Gareth D.

Australia
Nice item
I've now got three of these, for different desks. Perfect size and nice to have real leather.
Payment & Security
Your payment information is processed securely. We do not store credit card details nor have access to your credit card information.